Discontinued Products
This section provides information and downloads for discontinued products. These products are no longer available for new installations.

Spare parts may be available. Contact us for more information.
< Back to category
PSDRP-240-24 / PSDR-120-24
Magnetic Door Holder PSU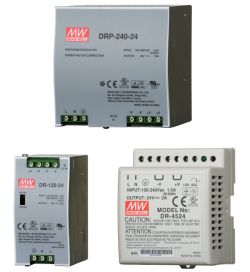 The 24 Vdc (nominal) DIN rail power supplies PSDRP-240-24, PSDR-120-24, and PSDR-4524 are recommended for electromagnetic door holders.
They are also suitable for general applications in which neither power supply monitoring nor battery backup are required.
These power supply units must be installed inside a cabinet to prevent accidental contact with exposed terminals.
Features
Universal AC input / Full range (except PSDR-120-24: AC input range selectable by switch)
Models: 45W, 120W, 240W
Protections: Short Circuit / Overload / Over temperature
Cooling by free air convection
Can be installed on DIN rail TS-35 / 7.5 or 15
LED indicator for power on
The PSDRP-240-24 has been replaced by the PSNDR-240-24.
The PSDR-120-24 has been replaced by the PS-S8VK-S12024.
The PSDR-4524 has been replaced by the PSHDR-60-24.
---
Ordering Information
Power Supply, DIN Rail Mounting, 230 Vac to 24 Vdc @ 10A
Power Supply, DIN Rail Mounting, 230Vac to 24Vdc @ 5A
Power Supply, DIN Rail Mounting, 230Vac to 24Vdc @ 2A
---
Enquire about this product