News
F220 Network Displays Put the Right Information in the Right Place at the Right Time
Tweet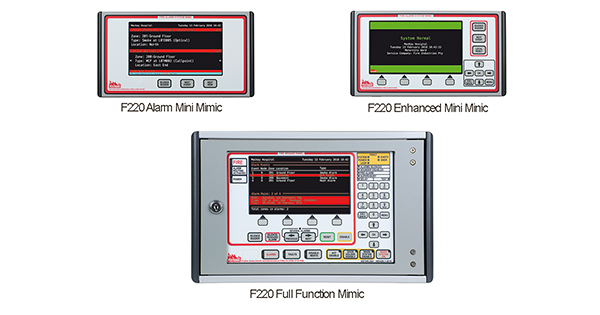 Pertronic F220 network displays make it easy to put the right information where people want it.
Every remote display on an F220 network can be configured to display information from any or all panels on the network. There are no constraints. A display can be mapped to every panel on the network, or it can be mapped to any number of F220 fire indicator panels. Each display has its own independent mapping.
The F220 range includes three different remote display units.
The F220 Alarm Mini Mimic presents alarm-only information from the panels it is mapped to. Installed at a suitable location, an F220 Alarm Mini Mimic provides facility staff with the exact location of the source of any alarm on the F220 panels to which the display is mapped.
The F220 Enhanced Mini Mimic provides read-only access to all information available from the panels it is mapped to.
The F220 Full Function Mimic provides control as well as monitoring. Like the mini-mimics, this display unit presents information from a list of F220 panels, which may include any or all panels on the network. In addition, it can be mapped to control some or all of the panels it monitors.
There are no restrictions on the scope of F220 remote displays and control units. Some Pertronic F220 networks have one F220 Full Function Mimic controlling an entire network, emulating a master-slave system.
However, remote display and control in an F220 system is far more versatile than master-slave or peer-to-peer systems. With an F220 system, there are no constraints. Hierarchy is optional. 
In an F220 network, the end users can have almost any control and monitoring system they want.