News
Information Presentation in Pertronic F220® Network Systems
Tweet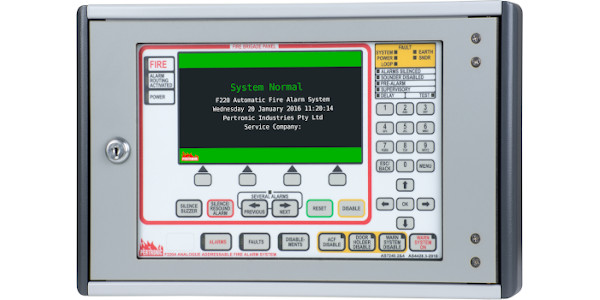 With the Pertronic F220 you always know what's happening, even from a distance.
Whether a system has one F220 or 133 networked fire panels, every F220 LCD display follows the same convention: Green for normal; red for "alarm".
There's plenty of scope for customising F220 displays. For example, F220 remote displays can be configured to display fire system events from the entire network, or from specific areas.
The Esplanade Norwest system has two keyboard-displays. The main F220 panel provides control and monitoring of the entire network from the fire control room. The second panel provides local control of the fire alarm system in the northern building only.
Advanced information processing capabilities underpin the F220 network's outstanding performance. Every F220 fire panel and every network interface card has a powerful 32-bit RISC processor. Advanced intelligent messaging ensures that every processor in an F220 network has up-to-date information about the network system's status. Every network node "knows" what is happening on the entire network. F220 fire panel processors continually update the network via their local network interface cards. If one F220 fire panel detects an important event, the event is shared with every network interface card within less than one second.
The F220's hierarchy of screen colours ensure fire system status is easily identified, even when seen from a considerable distance away from the fire panel or display unit.
Simplified Installation
The F220 network is designed to simplify installation and maintenance.
An F220 network can be constructed node by node. A partly built network can be powered up and tested while other parts of the system are still being installed.
Advanced network communication ensures that the disablement and fault lists are always up to date. The fault list makes fault-finding easy, even in very large installations. The disablement list simplifies the task of isolating devices during construction or maintenance.