F120A / F100A Network
< Back to category
F120A
Analogue Addressable Panel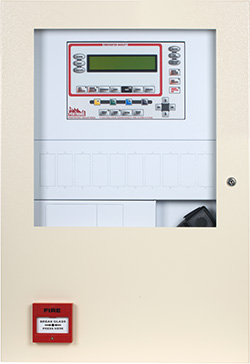 The Pertronic F120A is a modular, expandable, intelligent fire alarm control panel, capable of monitoring more than five thousand addressable devices including up to 3,180 sensors and 1,980 input or output modules. Intuitive, versatile programmable features, and a large selection of options, ensure that the F120A is readily tailored to individual project requirements.
Fire system events such as alarm signals from heat or smoke sensors and manual call points are uniquely identified on the user-friendly display. Configurable text descriptions allow users to determine the precise location of any active device.
The Pertronic range of peripheral devices for the F120A include a full range of alerting products such as sounders, strobe lights, beacons, audio-visual signs, amplifiers, speakers, audible warning and evacuation systems, and internet and SMS (text-messaging) interfaces.
The F120A facilitates intelligent building response features such as air handling, lift (elevator) control, sprinkler monitoring, door control and extinguishing agent release.
Standard Features
Standard F120A control panel with LCD display, fire-fighter, and engineer controls
Lockable front door with windows
Two analogue addressable loop circuits (Expandable up to twenty loops)
Two monitored sounder (External Bell, warning) circuits
Monitored Ancillary Control Function (ACF) output
Fire, Fault, and Battery Fail relay outputs
Door holder relay output
Programmable (General Purpose) relay output
Isolate controls for: Warning System, External Bell, ACF, Door Holder
Daily automatic system integrity test
Serial port for PC programming and interrogation via the user-friendly Pertronic utility application
Serial communications bus (RS 485) for networking with other fire alarm control panels and for interfacing to LCD and LED mimic panels and peripheral devices
Standard Cabinets: 16U, 28U Slim, 28U Deep, 40U Deep, Double 40U
Weatherproof cabinets (window optional): 16U, 28U
---
Enquire about this product