F120A / F100A Network
< Back to category
NETCU-A
Network Control Unit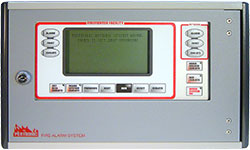 The Network Control Unit (NCU) allows remote display of messages from a Pertronic Analogue Addressable panel Network consisting of F100 and/or F120 control panels.
The Network Control Unit allows full and direct control and interrogation of any individual panel on the network by communicating directly with the control panel and replicating that panel's display. It can monitor and control all of the control panels across the entire network site simultaneously by performing the same primary functions as the individual control panel keyboard-displays themselves on a global basis.
For F220 network systems, please use the NET2-NCUA.
Features
Large graphics LCD display with backlighting 
Low power consumption 
Integral buzzer 
LED indication for 'Alarm', 'Fault', 'Isolate', 'Mains', 'PSU Fault', and 'Brigade Called' 
Coloured primary control pushbuttons for easy recognition 
Network status LEDs to indicate 'Alarm', 'Fault' and 'Isolate' globally 
LED indication for status for primary controls 
Local buzzer with external buzzer output 
'External Bell Isolate' switch: inhibits the external bell circuits across the entire network 
'Warning System Isolate' switch: inhibits the warning system circuits across the entire network 
'Door Holder Isolate' and 'ACF Isolate' pushbuttons with indicators, for network wide isolation or de-isolation of dedicated outputs 
'Warning System On' switch: operates all warning system circuits across the entire network 
'Walk Test' and 'Lamp Test' pushbuttons with indicators, for use in direct communication with a control panel 
'Previous' and 'Next' switches: used to navigate forwards through current event queues
'ACK' switch: Alarm and operation acknowledge facility 
'Reset' switch: resets the displayed device in alarm after an activation 
'Isolate' switch: isolates and de-isolates loop devices from the 'Alarm', 'Fault' or 'Isolate' queues 
Six soft function switches, function dependant on current operation
---
Ordering Information
Network Control Unit in F120A Mimic Case, AUS
---
Enquire about this product