F220 & F100A Fire Panels
Pertronic Industries range of Fire Indicator Panels (Fire Alarm Control Panel) offer power, flexibility and user-friendly operation for projects of all sizes
< Back to category
F16e
AS 4428.1:1998 Conventional Fire Panel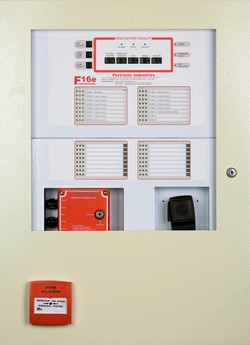 Complies with Australian standard AS 4428.1:1998
Note: Use Pertronic F220 for AS 7240.2 requirements
The Pertronic Industries F16e is a conventional automatic fire alarm system designed for small to medium sized building applications having up to 32 zones of smoke and heat detectors, manual callpoints and approved dry contacts. The F16e is expandable from 8 to 32 zones in 8 zone increments.
The F16e complies with AS 4428.1.
However, it does not comply with the current Australian fire alarm standard, AS 7240.2.
---
Ordering Information
F16e 8 Zone Conv. AUS Panel 600mm, 4A PSU
F16e 8 Zone Conv. AUS panel in 10U cabinet with 1.5A PSU
F16E in 10U Cabinet c/w EVAC50W, Mic, and 4A PSU
F16e in 16U Rack Cabinet c/w EVAC50W + Mic, 4A PSU
F16e 8 Zone Conventional Panel in 19" Case + 50W EVAC, 4A PSU
---
Enquire about this product