FireUtils & Software Tools
< Back to category
FireUtils
Fire System Programming and Diagnostic Application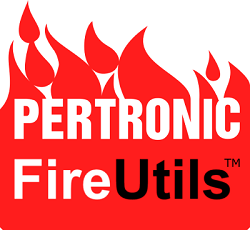 Pertronic FireUtils™ is a computer application that makes it easy to configure and analyse Pertronic F220 fire indicator panels, the Pertronic Net2 Network, and Pertronic F120A fire indicator panels.
FireUtils™ allows users to:
Create, modify, upload, download, analyse, and debug panel and Net2 Network configuration files
Import configuration information from a spreadsheet or CAD programme via csv
Import history logs for analysis and diagnostics
Control a fire indicator panel from a connected PC
Export data reports in several popular formats
A project file in FireUtils™ may include multiple F220 fire indicator panels, some or all of which may be connected in a Net2 Network. The project may also include multiple stand-alone F220 and F120A panels.
FireUtils™ displays configuration data in matrix-based editing grids. The grids provide separate tables for editing analogue addressable loops, zones, timers, groups, system events, fan control blocks, deluge control blocks, logic blocks, AAF units, auxiliary outputs, LEDs, and network inputs. With a few mouse-clicks, users can insert, modify, and move large numbers of loop devices and other objects, within or between loops.
Pertronic FireUtils™ can read or write all configuration files for a complete Net2 Network, including all networked panels, over an Ethernet connection to a single Net2 network card. The FireUtils™ Service Mode Window makes it easy to see and control the process of configuring or upgrading a Pertronic Net2 Network.
Features:
High-speed Ethernet transfer of configuration files
Single point update of complete Net2 Network configuration including all panels and network cards
Upload times for typical networks:
34 nodes: Less than one minute
130 nodes: Less than five minutes
Imports configuration data from a csv file
Network Service Mode Window provides step-by-step monitoring and control of the network configuration update process
Graphic display of cause and effect logic
Matrix-style grids for editing and moving loops, zones, timers, groups, system events, fan control blocks, deluge control blocks, logic blocks, AAF units, auxiliary outputs, LEDs, and network inputs
Configures time and date throughout a Net 2 Network
Creates and manages custom loop devices
Configures Net2Cards as FireMap or BMS (Modbus) interfaces
Converts F120A configuration to F220
Network Mapping Manager
Control panel keyboard-display simulator
Imports configuration files from an existing F220, Net2 Network, or F120A for upgrading or analysis
Imports panel history logs
Exports reports in pdf, Excel, and Word formats
Up- or down-load F220 & Net2 Network Card configuration via Ethernet
Up- or down-load F120A & F220 config via RS-232
---
Enquire about this product