Mimics, Repeaters & Interfaces
Pertronic Industries offer an extensive range of Mimic and Repeater Displays. This includes: LCD Mimics, LED Mimics, Ancillary Peripheral Outputs & Displays, and General Purpose Interface Boards
< Back to category
RS485IOCTRL
RS485 I/O Controller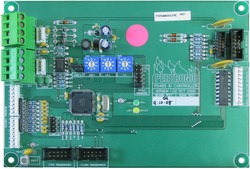 Pertronic Industries manufacture a range of RS-485 Ancillary Peripherals for Pertronic fire alarm panels. These products allow project-specific outputs and/or displays to be added to fire alarm systems built with Pertronic panels.
The ancillary peripheral product range includes controller units and output/display units.
The RS485 I/O Controller has been developed for applications requiring large numbers of LEDs or ancillary outputs. It can control up to 2000 individual outputs.
This controller may be configured for general LED displays (with flashing outputs), or for fan block display, with the LED arranged in groups of three, configurable as flashing or steady.
---
Ordering Information
RS485 IO Controller, Printboard assy, V102
---
Enquire about this product