Discontinued Products
This section provides information and downloads for discontinued products.
These products are no longer available for new installations.
Spare parts may be available.
Contact us for more information.
< Back to category
SOU-LPR-4 / SOU-SSR-4
Wall Mount Sounder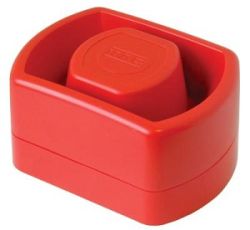 SOU-LPR-4 (with Low profile Backbox)
SOU-SSR-4 (with Waterproof Backbox)
The Conventional Wall Mount Sounder operate over a wide input voltage range of 9 to 33VDC and are optimised for use at 12V and 24V systems.
The conventional range of wall mount sounders are available in 4 tone versions in either red or white colours with locally controllable output levels to enable the sound intensity to be adjusted to suit the application. Both versions are designed to give optimum performance at a nominal 24V. The distinctive low profile shape is acoustically very efficient, producing high sound output at low current levels. 
The wall mount sounders have a wide angle uniform sound distribution providing good audibility in all directions. Rugged construction with solid state electronics also provides high reliability and stable performance. 
All wall mount products are interchangeable into one of three different types of surface mounting base: low profile (IP44), surface (IP55) and waterproof (IP66), enabling any of the units to be used internally or externally as required by the needs of the application. 
Features:
4 tone sounder
High sound output, low current consumption
High reliability and stable performance
Volume control
Low profile, surface and waterproof mounting options
---
Enquire about this product