Discontinued Products
This section provides information and downloads for discontinued products.
These products are no longer available for new installations.
Spare parts may be available.
Contact us for more information.
< Back to category
F100PDB/F100PDB12
LED Display Boards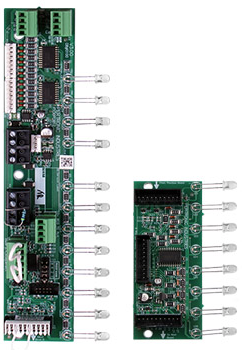 The RS485 LED Display Units (F100PDB & F100PDB12) are repeater / mimic displays that connect to the RS-485 Mimic Bus of Pertronic F220, and F100A fire panels. These displays may also be connected to the Pertronic Network Card (NETCARD) RS-485 Mimic Bus.
The 12-way LED display board (F100PDB12) has eight LED zone indicators and four global indicators; Sprinkler, Fire, Defect and Normal. 
Additional 8-way display boards (F100PDB) expand the number of LEDs up to the fire alarm control panel's maximum capacity. (Please refer to the relevant fire alarm control panel datasheet for details). An optional 8-way display relay board may be used for relay control.
The LED display boards may be installed within a fire panel for local indication, or may be mounted in a selection of separate customised cabinets for remote indication of the panel status.
Features
RS485 LED Mimic Address set by jumpers
Robust microprocessor based SMD design
Onboard fault diagnostic LED indicator
Fully monitored by the fire alarm control panel
Six onboard system function inputs (12-way LED only)
Four onboard system function outputs (12-way LED only)
12 x LED pull downs available (12-way LED) or 8 x LED pull downs available (8-way LED)
Also compatible with Pertronic F120A
---
Ordering Information
8 Way LED Display Extension Board for F100A,F120A,F16E
12 Way Smart LED Display Board for F100A,F120A,F16E
---
Enquire about this product