Discontinued Products
This section provides information and downloads for discontinued products.
These products are no longer available for new installations.
Spare parts may be available.
Contact us for more information.
< Back to category
GPIB for F120A
General Purpose Interface Board for F120A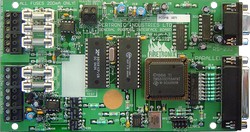 This product has been replaced by the SPIB-NCPP.
Pertronic Industries General-Purpose Interface Board (GPIB) provides an interface to allow the status of an Analogue Addressable Panel (F100A, F120A and F220) to be monitored or transmitted to a variety of devices provided by independent suppliers. The GPIB monitors the Analogue Addressable panel events by decoding the current event data transmitted on the RS485 bus. This data is a copy of the current event queues as displayed on the panel's LCD display. There are multiple queues containing (ordered by priority) Fires, Isolates, Loop Defects, System Defects and Information.
For each event, the GPIB generates a message that is placed in a transmission queue to be sent to the external device. The precise format of the message and transmission is determined by the protocol requirements of the external device and is configured within the GPIB software.
Features
Robust microprocessor based design 
Firmware available for Pertronic F100A, F120A and F220 Fire Alarm Panels 
GPIB-M Modbus interface (supports ASCII or RTU format over RS232 or RS485 
GPIB-N Pager Interface (AUSTCO MKI, Austco MKII or Generic) 
GPIB-P Printer interface - output can be any combination of Parallel, RS232 or RS485 
Optically isolated and non-isolated RS485 interfaces 
RS232 and parallel printer interfaces com.au 
Local Buzzer drive with Acknowledgement facility 
Powered with isolated supply (e.g. plug pack or isolated DC/DC converter)
---
Ordering Information
GP I/F Board with Nurse Call S/W (Austco MKII) for F120/F220
---
Enquire about this product