Discontinued Products
This section provides information and downloads for discontinued products.
These products are no longer available for new installations.
Spare parts may be available.
Contact us for more information.
< Back to category
NETCONC
Network Concentrator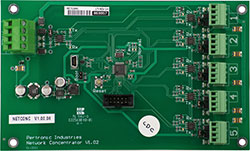 For F220 network systems, please use the Net2 Network System.
The Pertronic Network Concentrator enhances the capability of a Pertronic network. Without a Concentrator, a single F120A panel and a network card provides the following: 
A maximum of 128 network inputs, and
Up to 64 LED outputs transmitted around the network for use as network inputs to other panels.
With the installation of a Network Concentrator, a single F120A panel and network card can communicate with up to 5 panel cards and provides greater capability:
A maximum of 640 network inputs for the panel, and
As many as 320 LED outputs transmittable as inputs around the network to other panels.
---
Enquire about this product