Discontinued Products
This section provides information and downloads for discontinued products.
These products are no longer available for new installations.
Spare parts may be available.
Contact us for more information.
< Back to category
FL0111E
FAAST LT Conventional Single Channel Detector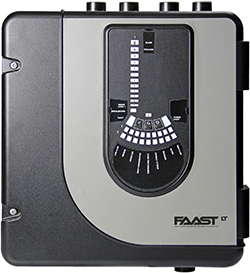 This product has been replaced by the FL0111E-HS.
The FAAST LT Conventional Aspirating Smoke Detector is designed with the installer and end user in mind. The air-sampling system continuously draws air from the controlled environment into the detector chamber via the sampling pipe. The detection system serves the wide variety of Class C applications where maintenance is difficult, other smoke detection methods are inappropriate or prone to fail due to harsh environments or areas where aesthetics matters. It is also suitable for small mission critical applications where Very Early Warning – Class A or B – detection is required.
FAAST LT combines proven aspiration detection technologies to deliver reliable smoke detection and efficient installation and maintenance. The device includes high sensitivity laser fire detection, ultrasonic flow sensors, and internal design features to protect vulnerable components from environmental and human threats. The device is quick to install and easy to commission thanks to PipeIQ pipe design and configuration software which is provided as standard.
 Features
ActivFire: afp -2988
Single channel, single detector model
IP65 enclosure
Draws air through a network of sampling pipes
Ultrasonic airflow sensing
Configurable sensitivity - 9 levels from 0.06% to 6% obs/m
Programmable alarm thresholds
Multiple event logging up to 2240 events
User friendly air-flow pendulum graph for verification of pipe network functionality
Electronics protected from air flow and accidental damage during installation or maintenance
Easily replaceable and reusable filter without affecting the rest of the device
Designed for efficient wiring and installation: cable gland holes, easy access to the wiring area and no special tools required
Single channel including fan, sensor and flow monitoring
---
Ordering Information
FAAST LT Stand Alone Single Channel Detector (1,000 m²)
---
Enquire about this product