Discontinued Products
This section provides information and downloads for discontinued products.
These products are no longer available for new installations.
Spare parts may be available.
Contact us for more information.
< Back to category
AUX24V/1.3PSU-K003-BLK
FAAST Power Supply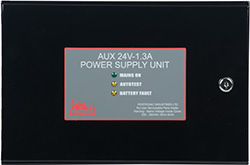 This product has been replaced by the AUX24V-1.5PSU-K003-BLK.
This AUX24/1.3PSU is a 24 Volt DC self-monitoring power supply suitable for powering anxiliary fire alarm equipment. The colour is Black to match the FAAST range of aspirating smoke detectors.
The AUX24/1.3PSU-K003-BLK is fitted with a 24/1.3SWMPSU power supply unit. Auxiliary power supply systems are supplied without batteries.
Dimensions:              230 H x 350 W x 135 D mm
Battery Compartment Dimensions:     110 H x 325 W x 105 D mm
Shipping Weight:     3.3 kg (excl. batteries)
---
Enquire about this product