Discontinued Products
This section provides information and downloads for discontinued products.
These products are no longer available for new installations.
Spare parts may be available.
Contact us for more information.
< Back to category
1251BPI
Ionization Detector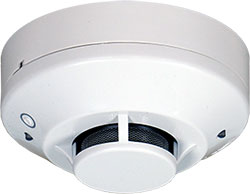 1251BPI Ionization detectors incorporate a unique single source, dual chamber design to respond quickly and dependably to a broad range of fires.
Address selection from 1 to 159 on Pertronic F220.
Features:
Same housing for both photo-electric and ionisation modules
Analogue addressable communication
Automatic drift compensation
Stable communication technique with noise immunity
Variable sensitivity to smoke
Low standby current
Rotary address switches, 1 to 159
Detectors per loop: 1 to 99 on F100A and 1 to 159 on F220
Dual red indicating LEDs for 360° visibility
Optional remote LED accessory
Also compatible with Pertronic F100A and F120A
---
Enquire about this product