Discontinued Products
This section provides information and downloads for discontinued products.
These products are no longer available for new installations.
Spare parts may be available.
Contact us for more information.
< Back to category
BCS-CS8BW
200mm 15W Ceiling Speaker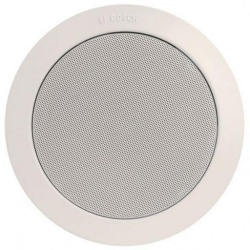 The 200mm 15W Ceiling Speaker BCS-CS8BW is part of the latest 'Easy Fit' range. This product is light weight, quick and easy to install, and finished in unobtrusive white with an attractive metal grille. The wide frequency range and dispersion ensure good quality music reproduction and excellent speech intelligibility.
Features:
200mm 15W Ceiling Speaker
Choice of power tapping: 15W, 10W, 5W, 2.5W, 1.25W
Wide bandwidth for music reproduction
Wide dispersion for speech intelligibility
Simple output level selection
Easily flush mounted in ceiling or bulkheads
Dependable rota-clamp fixing system
Blends in with virtually all interiors
---
Ordering Information
Bosch BCS-CS8BW 200mm 15W Ceiling Speaker
---
Enquire about this product