Discontinued Products
This section provides information and downloads for discontinued products.
These products are no longer available for new installations.
Spare parts may be available.
Contact us for more information.
< Back to category
BCS-HS10E
10W Horn Speaker IP66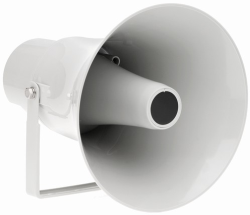 The 10W IP66 Outdoor Horn Speaker BCS-HS10E is a high efficiency 100V line speaker designed for emergency warning systems. It is more than ten decibels louder than a cone-type speaker with the same input power. 
Screwdriver adjustable power taps facilitate sound level adjustment to meet project requirements such as area coverage and ambient noise level. The adjustable mounting bracket makes it easy to position the horn speaker for optimal sound dispersion.
Features:
Very high acoustic efficiency
Suitable for indoor or sheltered outdoor locations
Excellent speech reproduction
Very wide sound dispersion
UV stabilised ABS construction
Sturdy adjustable mounting bracket
Screwdriver adjustable power tapping
Loop In / Loop Out connection
Fitted with series blocking capacitor
Compatible with EWS line monitoring systems
IP66 dust and water resistance
Operating Temperature: -20 °C to +55 °C
---
Ordering Information
---
Enquire about this product