Discontinued Products
This section provides information and downloads for discontinued products.
These products are no longer available for new installations.
Spare parts may be available.
Contact us for more information.
< Back to category
P2RL
L-Series Sounder + Strobe, Wall-Mount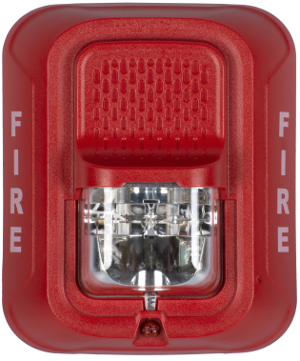 The L-Series Horn Strobe (P2RL) is a supplementary audible-visual alarm device with a white xenon flash tube and lens/reflector system. When supplied with DC power of the correct voltage and polarity the P2RL generates an audible alarm signal, and the strobe light flashes at a rate of one flash per second.
The audible alarm signal may be configured using a rotary switch. A range of temporal and non-temporal tones are available, together with two volume settings.
Seven brightness settings are available for the visual alarm signal.
L-Series strobes are compatible with the External Bell & Warning System outputs of Pertronic fire alarm control panels.
Features
White flashing wall-mount horn strobe
1 Hz flash rate
Horn rated at 88+ dBA at 16 volts
Rotary switch for horn tone and volume selection
Coloured lenses available in red, amber, or blue
Automatic selection of 12- or 24-volt operation at 15 and 30 candela
Field-selectable candela settings: 15, 30, 75, 95, 110, 135, and 185
Plug-in design with minimal intrusion into the back box
Tamper-resistant construction
Mounting plate shorting spring allows wiring continuity check before device installation
FM Approved
Listed to UL 1971 and UL 464
Flashes when provided with a 24 Vdc (nominal) power supply of correct polarity
Compatible with the fault supervision system on Pertronic fire indicator panel External Bell & Warning System outputs
Electrically compatible with SpectrAlert and SpectAlert Advance devices
---
Enquire about this product