Discontinued Products
This section provides information and downloads for discontinued products.
These products are no longer available for new installations.
Spare parts may be available.
Contact us for more information.
< Back to category
VESDA VLC Marine
VESDA VLC Marine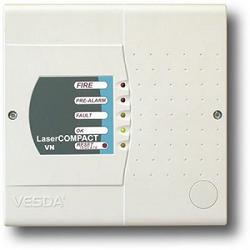 The VESDA VLC detector has been tested and certified to provide all the benefits of aspirating smoke detection, including very early warning, in Marine Environments. This has been achieved through additional testing to ensure the performance of the product in challenging marine applications.
The Marine products are approved by Det Norske Veritas (DNV). They are rated IP30 so, in locations where higher IP protection is required, the detector should be housed in an IP66 enclosure.
The Marine version of the VESDA VLC is available in two versions, one that interfaces via relays only (RO) and one that interfaces via relays and VESDAnet (VN).
The VN version is compatible with the Marine version of the remote Display Module, which allows the current status of the detector to be reported in the most convenient location (such as the bridge). The remote Display Module has 7 remote relays to support any combination of signalling that may be demanded by the application. The VN version also allows several detectors to be linked together on VESDAnet thereby allowing one to act as a reference detector for other VESDA detectors.
---
Enquire about this product