Discontinued Products
This section provides information and downloads for discontinued products.
These products are no longer available for new installations.
Spare parts may be available.
Contact us for more information.
< Back to category
VESDA VLP
VESDA Laser Plus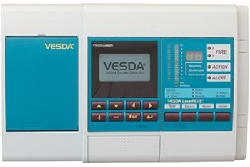 The VESDA Laser Plus (VLP) detector is the central element of the VESDA ASD product range. Using unique detection principles, the VLP has an alarm sensitivity range of 0.005%–20% obscuration/m (0.0015%–6.25% obscuration/ft). The VLP is classed as a "Very Early Warning Smoke Detector", which means that it detects fire at the earliest possible stage and reliably measures very low to extremely high concentrations of smoke.
Features
Wide sensitivity range
Laser based smoke detection
4 configurable alarm levels
High efficiency aspirator
Four inlet pipes
Air flow supervisor per sampling pipe
Clean air barrier optics protection
Easy to replace air filter
7 programmable relays
VESDAnet™
AutoLearn™
Referencing
Event log
Modular design
Recessed mounting option
---
Enquire about this product