Discontinued Products
This section provides information and downloads for discontinued products.
These products are no longer available for new installations.
Spare parts may be available.
Contact us for more information.
< Back to category
VESDA VLS
VESDA Laser Scanner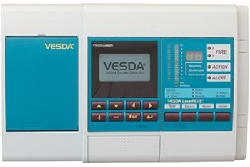 The VESDA Laser Scanner (VLS) is similar to the VESDA Laser Plus (VLP), with the addition of an inlet manifold valve mechanism and software to control airflow from four separate sectors (pipes).
This configuration enables a single zone to be divided into four sectors, for example, distinguishing between separate spaces within a room.
In normal operation, the VLS draws air from all sectors in use. If the smoke level reaches a pre-determined threshold, the VLS identifies which sectors have smoke. The VLS then designates the first alarm sector. (If multiple sectors have smoke, the sector with the highest smoke concentration is designated as the first alarm sector, FAS.)
Once the FAS has been identified, the VLS continues to monitor all four sectors (pipes) to monitor fire growth.
Features
Individual pipe identification
Adaptive scan threshold
Wide sensitivity range
Laser-based smoke detection
VESDAnet™ communication
4 alarm levels per sector
High efficiency aspirator
Clean air barrier optics protection
Easy to replace air filter
7 or 12 programmable relays option
AutoLearn™
Referencing
Event log
Recessed mounting
---
Ordering Information
VESDA LaserScanner Blank with FIRE 1 & OK Led's, Blank, Blank & 7 Relays fitted
VESDA Laser Scanner , Display and 7 relays
VESDA LaserScanner Blank, Programmer, Display 7 Relays fitted
VESDA LaserScanner, Display, 12 Relays
VESDA LaserScanner Blank, Programmer, Display,12 Relays fitted
---
Enquire about this product