Discontinued Products
This section provides information and downloads for discontinued products.
These products are no longer available for new installations.
Spare parts may be available.
Contact us for more information.
< Back to category
M220E Module
Dual Input Module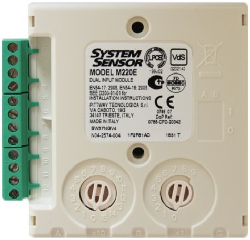 This product has been replaced by the M220EA.
The Dual Input Module (M220E) is suitable for monitoring fire alarm and supervisory devices with normally open contacts.
It has two tri-colour (red, yellow, green) LEDs: One for each channel. Each LED can be set by panel command to pulse green when the module channel is polled by the fire alarm control panel.
In the event of an alarm the panel can switch on the red indicator continuously.
The M220E module indicates an open-circuit fault on either input circuit by setting the relevant LED to blink yellow. This fault indication is always overridden by a panel command turning on the red indicator.
Features
Common mechanical platform for box, panel and DIN rail mount versions
Tri-colour LEDs
Built-in short circuit isolator
Decade address switches visible and selectable in two planes
Wide angle LED visibility
Supervises the input circuits for open-circuit faults
---
Ordering Information
Intelligent Module - 2 Input (Uses M200E-SMB Box)
---
Enquire about this product