Discontinued Products
This section provides information and downloads for discontinued products.
These products are no longer available for new installations.
Spare parts may be available.
Contact us for more information.
< Back to category
C1055
Pendant Ball Speaker 30W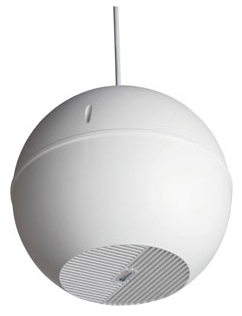 The Pendant Ball Speaker 30 W (C1055) is a 100 Volt line dual-cone speaker for Australian emergency warning, voice alarm, and public address systems.
The wide frequency response and high audio quality makes the C1055 suitable for music and speech reproduction, providing accurate and intelligible broadcast of evacuation and PA messages.
Designed for use where traditional ceiling mounted speakers are impractical to install. Used in such areas as very high raked, suspended, concrete, or exposed ceilings. Installation requires a single fixing with connection concealed within the ceiling rose provided.
To ensure compatibility with commonly-used fire evacuation systems, the speaker incorporates a series blocking capacitor and 100V-Line transformer.
Features:
Wide frequency response suitable for public address (PA) and background music
Excellent speech reproduction suitable for emergency warning and voice alarm
Wide dispersion angle
165 mm dual-cone speaker driver
Selectable power levels (via multi-core cable): 8 Ω, 5 W, 10 W, 15 W, 20 W, 30 W
Sound pressure, 91 dB SPL at 1 Watt, 1 metre, 1 kHz
Fitted with series blocking capacitor and 100 Vrms line transformer
Compatible with EWS line supervision systems
High-strength UV-protected ABS plastic housing
Supplied complete with ceiling rose
IP55 protection rating
---
Ordering Information
30W 100V Line Pendant Ball Speaker
---
Enquire about this product