Discontinued Products
This section provides information and downloads for discontinued products.
These products are no longer available for new installations.
Spare parts may be available.
Contact us for more information.
< Back to category
M221E Module
Dual Input Single Output Module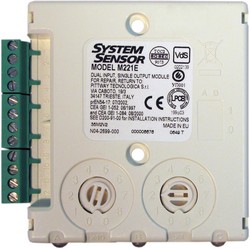 This product has been replaced by the M221EA.
The M221E provides supervision of two input circuits from external devices and an unmonitored single pole volt-free changeover contact for external devices. The module features a built-in short-circuit isolator. Input channels are capable of both latched and analogue supervision: there are three separate latched states; Normal, Open-Circuit and Combined Alarm/Short. The analogue supervision continuously monitors the supervised circuit, returning a signal proportional to the circuit resistance.
Features
M221E Dual-Input / Single-Output Module
Common mechanical platform for box, panel and DIN Rail mount versions
Tri-colour LEDs with wide-angle LED visibility
Built-in short-circuit Isolators
Decade address switches - visible and selectable in two planes
---
Ordering Information
AA Module Dual Input, Single Output (Uses M200E-SMB)
---
Enquire about this product