Discontinued Products
This section provides information and downloads for discontinued products.
These products are no longer available for new installations.
Spare parts may be available.
Contact us for more information.
< Back to category
Panel-PRN
Micro Panel Printer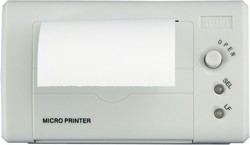 The Micro Panel Printer Kit for the F120A Control Panel is designed to be mounted on a dedicated 3U 19" rackplate to give a hard copy printout of events directly from the control panel. Events printed are configurable as All Events, Alarms Only, or Alarms + Loop Device Faults + Isolates. The thermal printer uses a single LCD Mimic address and connects via 4 wire RS485 and separate 24V DC power. A simple pushbutton can be used to take the printer offline, during testing for example. Another pushbutton allows the paper to be fed through as required.
---
Enquire about this product