Discontinued Products
This section provides information and downloads for discontinued products.
These products are no longer available for new installations.
Spare parts may be available.
Contact us for more information.
< Back to category
885WP-B
Weatherproof "B" Heat Detector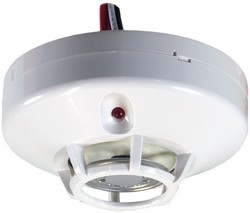 Model 88WP-B is a 2-wire Type "B" Fixed Temperature (63 °C) Heat detector. The detector is designed to provide open area protection in areas subject to moisture and is sealed against the entry of moisture to a rating of IP67. The LED latches ON when the detector is in Alarm. Each 885WP-B detector is used with a mounting base that permits the detector to be fitted directly to a 50 mm or 60 mm junction box.
The 885WP-B detector includes a tamper-resistant feature that prevents its removal from the mounting base without the use of a key. To make the detector tamper-resistant, remove the tab from the mounting base using a cutting tool. Remove the tamper key from the centre of the mounting base by twisting it back and forth several times. Once the detector is installed, it may be removed from the mounting base by inserting the T-shaped end of the key into the slot on the side of the unit and rotating the detector counter-clock wise.
Features
2-Wire Type "B" Fixed Temperature (63 °C) Heat detector
Provides open-area protection
IP67 rated - detector is sealed against entry of moisture
Includes a tamper-resistant feature
Mounting base permits the detector to be fitted directly to a 50 mm or 60 mm junction box
Red LED indicator
12 or 24 Vdc operation
Remote LED connector provided
---
Ordering Information
Weatherproof Conventional Heat Detector - Fixed Temperature (63 C)
---
Enquire about this product