Discontinued Products
This section provides information and downloads for discontinued products.
These products are no longer available for new installations.
Spare parts may be available.
Contact us for more information.
< Back to category
1151AUS
Conventional Ionisation Smoke Detector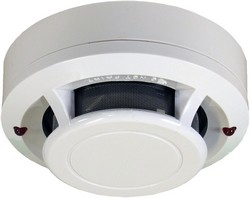 Model 1151 ionization detector uses state-of-the-art sensing chambers. This detector is designed to provide open area protection, and to be used with compatible UL-listed control panels only. The capability of plugging this detector into a variety of special bases makes it more versatile than
equivalent direct-wired models. Two LEDs on each detector light to provide a local 360° visible alarm indication. Remote LED annunciator capability is available as an optional accessory. This detector also has the latching alarm feature. The alarm can be reset only by a momentary power interruption. For testing, this detector has an internal magnetically activated reed switch.
---
Enquire about this product