Discontinued Products
This section provides information and downloads for discontinued products.
These products are no longer available for new installations.
Spare parts may be available.
Contact us for more information.
< Back to category
DH100ACDCLP
4 Wire Photo Duct Detector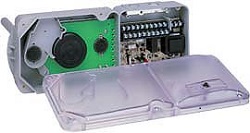 The DH100 Series Low-Flow photoelectric duct smoke detectors are capable of sensing smoke in air velocities from 0.5 to 20 m/sec. The Innovair range features low-flow technology that enables duct smoke detection throughout a broad range of airflow environments. Many difficult to solve HVAC applications occur in low airflow ducts where reliable smoke detection is critical. Innovair low-flow technology can detect smoke at air speed velocities of 30 meters per minute or greater, while continuing the same reliable performance to 1200 meters per minute. The DH100 Series Detector samples air currents passing through a duct and gives dependable performance for shutdown of fans, blowers, and air conditioning systems, preventing the spread of toxic smoke and fire gases through the protected area. 
Features
Patented telescopic sampling tube (for ducts up to 0.46m (1.5 feet)
Sampling tubes available 0.9m, 1.5m and 3m
Easy and quick mounting to round or rectangular ducts from 0.3 – 3.7 meters wide
Transparent cover for convenient visual inspection
Easy to clean
Built in reset button
4 Wire operation 24 VAC/DC or 120/230 VAC operation
Remote LED output, remote test and reset options
Alarm and fault relay contacts
Two sets of auxiliary alarm changeover relay contacts
---
Enquire about this product