Speakers
< Back to category
PSS3
3W Ceiling Speaker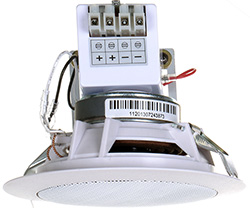 The PSS3 and PSS3LP In-Ceiling Loudspeakers are an ideal choice for industrial and commercial applications such as hotels, offices, hospitals and factories.
They include an in-built 100VRMS line transformer and 22µF DC blocking capacitor. The 100VRMS transformer reduces line losses for long line distances and allows easy parallel connection of multiple speakers. The blocking capacitor allows DC monitoring of the speaker circuit.  
Multiple power tap settings allow for different applications depending on room size and ambient noise conditions.
The all metal body is painted in an attractive RAL9016 white colour. The spring clamps ensure simple, but secure installation and easy service access.
Features
Quick fit ceiling mounting clamps
Built-in 100VRMS transformer with protective cover
Includes 22µF bipolar blocking capacitor
Inceiling type loudspeaker
PSS3 contains power taps of 0.33W, 0.66W, 1.25W, 3W @ 100VRMS
All metal components include grille & baffle
Powder coated in RAL9016 white
---
Ordering Information
3.5" (88mm) Ceiling Speaker 3W 108mm Cut Out, White
---
Enquire about this product