Project Profiles
A Pertronic Fire System Protects Sydney's Award-Winning Village Quays Development
Tweet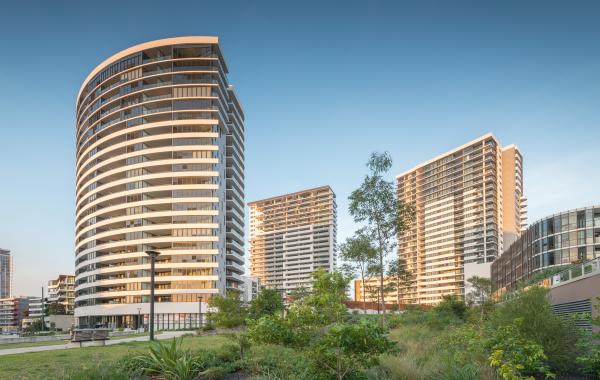 Village Quays is a high density residential development in the Sydney suburb of Rhodes. Located just over a hundred metres from the Parramatta River waterfront, the complex contains a total of 750 apartments in five buildings clustered around an exclusive landscaped park. The buildings and park are built on top of a shared two-level car-park.
This exclusive urban community is protected by a network of five Pertronic F120A analogue addressable fire indicating panels monitoring sensors throughout the complex. During an alarm incident, the system accurately identifies exactly which of the 900 smoke sensors and 200 heat sensors are detecting alarm conditions, because all sensors are analogue addressable types.
In the event of a fire alarm incident the fire alarm system triggers an evacuation system which is programmed to automatically direct occupants to the most appropriate evacuation routes, based on the source of the alarm. The fire alarm system also drives thirty smoke management fan controls which maintain air quality along key evacuation routes.
Village Quays was developed by Sydney-based Billbergia Pty Limited. With a total footprint of 15,000 square metres, it is a large complex with a big, complicated fire alarm and evacuation system. "It was installed by some very smart electricians," said Chris Kelly, Construction Manager at Billbergia. "It was commissioned in stages. They made it seem easy. We had no problems."
Village Quays won the Residential & Mixed-Use ($100 m - $150 m) category at the 2015 Master Builders Association NSW Excellence in Construction Awards.