Conventional Detectors
Pertronic Industries Conventional Smoke Detectors cater for a wide range of detection applications.
< Back to category
2151BPI
Photoelectric Detector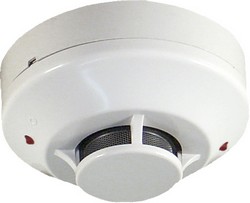 System Sensor 2151BPI detectors are designed to meet the performance criteria designated by fire detection standards throughout the world. The 2151BPI photo-electronic smoke detector contains a unique optical sensing chamber designed to sense smoke particles produced by a wide range of combustion sources. A custom integrated circuit incorporates signal processing to reduce false alarms. Stability in high air velocities is a prime benefit in many applications (up to 15.2m/s)
The sensing chamber is sealed against back pressure air flow and the chamber is further protected by a fine mesh screen to limit the ingress of contaminants such as dust and insects. This screen can be readily cleaned and replaced. Additional key features include a variety of mounting bases, and a full line of accessories.
Features
Sleek, low profile design
Dual Red LED's for 360º visibility
Field Sensitivity metering of detectors
Range of adaptor bases available with in-built continuity shorting spring
Low standby current
Built-in tamper resistant base
Optional Remote LED accessory
Removable cover for easy cleaning
Built in magnetic Alarm Test switch
Compatible with 400 Series products
Independently tested and SAI Global StandardsMark certified to AS ISO 7240.7:2003
---
Ordering Information
Conventional Photoelectric Smoke Detector
---
Enquire about this product