Conventional Detectors
Pertronic Industries Conventional Smoke Detectors cater for a wide range of detection applications.
< Back to category
2151BPI
Photoelectric Detector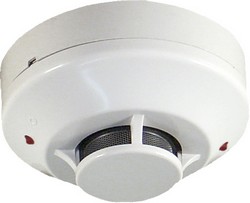 The 2151BPI Smoke Detector is a photoelectric point detector designed for general purpose smoke detection in conventional detection circuits. The optical smoke sensing chamber detects particles from a wide range of combustion sources, with stable performance in air flow up to 15 metres per second.
The sensing chamber is protected by a fine mesh screen with can be easily cleaned or replaced.
The 2151BPI features an on-board signal processor which is designed to reduce nuisance alarms.
Compatible mounting bases including the B401 allow the wiring to be installed and tested without fitting the 2151BPI detectors. A shorting spring in the mounting base provides electrical continuity when the detector is not plugged in.
Features
Dual Red indicating LEDs for 360° visibility
Magnetic Alarm Test Switch
A shorting spring in the mounting base allows the wiring to be installed and tested without plugging in the device
Field sensitivity metering of detectors
Range of adaptor bases
Low standby current
Tamper resistant base
Optional remote LED accessory
Removable cover for easy cleaning
Compatible with 400 series products
Independently tested and SAI Global StandardsMark certified to AS 7240.7-2004
---
Ordering Information
Conventional Photoelectric Smoke Detector
---
Enquire about this product