Conventional Detectors
Pertronic Industries Conventional Smoke Detectors cater for a wide range of detection applications.
< Back to category
885-WP
Conv. ROR Weatherproof Heat Detector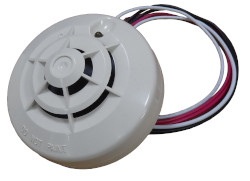 The Weatherproof Heat Detector (885-WP) is a conventional rate of rise heat detector plus 60 °C static (fixed) temperature threshold. This detector is designed to provide open area protection in areas subject to moisture.
The 885-WP is sealed against moisture to IP66.
The detector has an indicator LED which latches on when the detector goes into alarm.
The 885-WP detector is supplied with a mounting bracket that allows installation directly to a ceiling or to a junction box. The base has an optional tamper-resistant feature that prevents removal of the detector without the use of a key.
Features
Rate of temperature rise heat detector plus 60 °C static (fixed) temperature threshold
IP66 rating
Latching alarm indicator LED
Connection for remote indicator LED
12 Vdc or 24 Vdc operation
Supplied with mounting bracket and detector removal key
Optional anti-tamper feature prevents detector removal without use of removal key
Magnetic test feature
Independently tested and SAI Global StandardsMark certified to AS 7240.5–2004 Type A2R
---
Ordering Information
Weatherproof Conventional Type B Heat Detector (Fixed)
---
Enquire about this product