Analogue Addressable Detectors
Pertronic Industries Intelligent Smoke Detectors cater for a wide range of detection applications. Each analogue addressable detector reports the precise location and zone of a fire incident to the fire alarm control panel.
< Back to category
2251BPI
Photoelectric Detector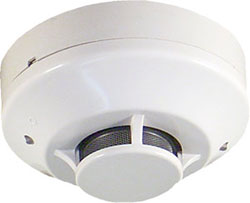 200 Series intelligent plug-in smoke sensors with integral communication provide features that far surpass those of conventional detectors. Manufactured by System Sensor, reliability is assured, along with a three year warranty from date of manufacture.
Individual sensor alarm thresholds are programmable within the control panel software. The smoke level in the sensor chamber is continuously monitored and reported to the panel. With the 200 Series addressable capability, each sensor's address is easily set with decade address switches, giving the precise location of each sensor in the event of a fire or for selective maintenance when chamber contamination reaches an unacceptable level.
Features
Same housing for both photo-electric and ionisation units 
Analogue addressable communications 
Stable communication technique with noise immunity 
Variable sensitivity to smoke 
Low standby current 
Rotary address switches, 1 to 159 
159 sensors per loop (panel dependant) 
Dual red LEDs for 360º visibility 
Optional remote LED accessory
---
Ordering Information
AA photoelectric smoke detector, excl. base. Black
AA photoelectric smoke detector, excl. base. Ivory
AA photoelectric smoke detector, excl. base. White
---
Enquire about this product