Analogue Addressable Detectors
Pertronic Industries Intelligent Smoke Detectors cater for a wide range of detection applications. Each analogue addressable detector reports the precise location and zone of a fire incident to the fire alarm control panel.
< Back to category
2251BPI
Photoelectric Detector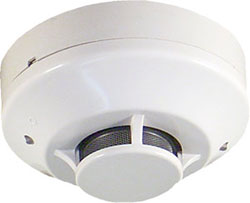 The Analogue Addressable Smoke Detector (2251BPI) is a plug-in photoelectric smoke detector with analogue addressable communication.
The smoke level in the sensor chamber is continuously monitored and reported to the fire panel. For each individual 2251BPI detector, the alarm, fault, and maintenance thresholds are programmable in the fire panel configuration software.
A suitably configured fire panel will identify the location of any detector which has triggered an alarm, fault, or maintenance signal. The fire panel can also identify any active detector by lighting up two red LEDs on the detector housing.
The fire panel may be configured to briefly light up the LEDs ("blink") when the detector is polled.
The detector's address on the analogue addressable loop is easily set using rotary address switches.
Features
Analogue addressable communications
Automatic drift compensation
Stable communication with excellent noise immunity
Smoke sensitivity configurable in the fire panel
Low standby current
Rotary address switches
Address range 1 to 159
Up to

159 detectors per loop (Pertronic F220, F120A)
99 detectors per loop (Pertronic F100A)

Dual red LEDs for 360° visibility
Optional remote LED indicator available (Note 1)
Compatible with B501AUS, B501AP, and other
System Sensor B500 series bases
Independently tested and ActivFire listed to AS 7240.7:2018, certificate afp-3384
Meets the requirements of NZS 4512:2021 s. 2.16.2
---
Ordering Information
AA photoelectric smoke detector, excl. base. Ivory
AA photoelectric smoke detector, excl. base. White
AA photoelectric smoke detector, excl. base. Black
---
Enquire about this product