Analogue Addressable Detectors
Pertronic Industries Intelligent Smoke Detectors cater for a wide range of detection applications. Each analogue addressable detector reports the precise location and zone of a fire incident to the fire alarm control panel.
< Back to category
2251CTLE
Photo, Thermal, CO & IR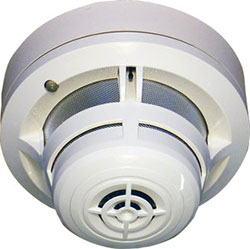 200 Series intelligent plug-in COPTIR fire sensors combine four sensing elements into one  unit: CO sensing (using EC cell technology) for monitoring CO products from a fire, IR sensing for measuring ambient light levels and flame signatures, optical smoke detection and heat detection. By measuring and processing the individual sensor outputs in conjunction with intelligent algorithms, the detector is both ultra-immune to nuisance sources which are incorrectly identified as a real fire by a single sensing element, and yet remains very sensitive to real fires.
Features
Highest nuisance alarm immunity 
Unique, true four sensor multi-criteria fire detector incorporating carbon monoxide, photo, thermal and IR sensing elements Advanced algorithms interpret and respond to the multiple inputs
Six available sensitivities 
CO sensing for fastest response to slow-developing, smouldering fires 
Fully integrated infrared sensing to support the fire alarm decision 
Automatic drift compensation of smoke sensor and CO cell 
Rotary decade address switches, 1 to 99 
Dual red LEDs for 360º visibility 
Optional remote LED accessory 
Magnet test function bypasses inbuilt delays
---
Ordering Information
COPTIR CO Multi-Criteria Analogue Smoke Detector - Ivory
---
Enquire about this product