Detectors
Pertronic Industries Intelligent Smoke Detectors cater for a wide range of detection applications. Each analogue addressable detector reports the precise location and zone of a fire incident to the fire alarm control panel.
< Back to category
5251BPI
Fixed Heat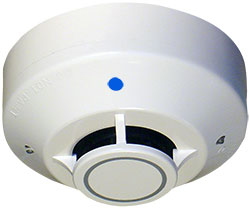 Model 5251BPI is AS 1603.1-1997 Type B fixed temperature heat sensor with configurable threshold.
5251BPI and 5251RBPI both of these models fit the plug-in analogue addressable detector base B501AUS (Ivory), B501/W (White) and isolator detector base B524IEFT-1.
Features
Low standby current
Stable communication technique with noise immunity
Configurable Sensitivity
Rotary decade address switches, 1 to 159
159 Sensors per Loop (panel dependant)
Dual Red LEDs for 360º visibility
Optional Remote LED accessory
---
Ordering Information
AA Fixed Temperature Thermal Detector - Type "B" & "D"
---
Enquire about this product