Analogue Addressable Detectors
Pertronic Industries Intelligent Smoke Detectors cater for a wide range of detection applications. Each analogue addressable detector reports the precise location and zone of a fire incident to the fire alarm control panel.
< Back to category
B524IEFT-1
Isolate Base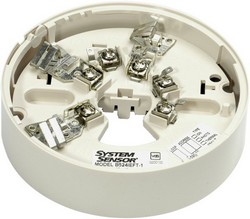 The B524IEFT-1 detector base with isolator is designed for use with System Sensor analogue addressable detectors. The isolator prevents an entire communications loop from being disabled when a short-circuit occurs. It achieves this by isolating the loop segment containing the short from the remainder of the circuit. The isolator automatically restores the loop when the cause of the short-circuit is removed.
Features
Low Current consumption: 100 μA
Complete Isolation of short-circuit cable between Isolators
Automatic restore when short-circuit is corrected
Rugged industrial construction
Loop Positive (+ve) Isolation
Remote LED connection
Sensor continues to operate with a short-circuit on either side of the Isolator Base
---
Ordering Information
AA Detector Base with Isolator
---
Enquire about this product