Analogue Addressable Detectors
Pertronic Industries Intelligent Smoke Detectors cater for a wide range of detection applications. Each analogue addressable detector reports the precise location and zone of a fire incident to the fire alarm control panel.
< Back to category
BCK-200B
Coloured Detector Cover Kit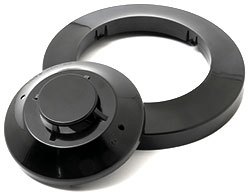 The Coloured Detector Cover Kit allows detector colour to be changed to match décor.
It is available in black BCK-200B and white WCK-200B.
The detector cover may be used with the base cover or with a coloured detector base.
Fits the following analogue addressable detectors:   
1251BPI (Ionization)
2251BPI (Photoelectric)                
5251BPI (Fixed Heat)
5251RBPI (Rate of Rise Heat)
Fits the following conventional detectors:
2151BPI (Photoelectric)
5151 Series (Fixed Heat)
The detector cover does NOT fit: 
2251CTLE-34-IV (Photo, Thermal, CO & IR)
22051TLE-34-IV (Photo Thermal & IR)
2251TMBPI (Acclimate, Photo & Thermal)
7251 (Laser Based Photoelectric)
---
Ordering Information
Black Cover to Suit 100B & 200B Series Detectors
---
Enquire about this product