Analogue Addressable Detectors
Pertronic Industries Intelligent Smoke Detectors cater for a wide range of detection applications. Each analogue addressable detector reports the precise location and zone of a fire incident to the fire alarm control panel.
< Back to category
I/F for LIOS LHD
Modbus Interface for LIOS Fibre-Optic Linear Heat Detector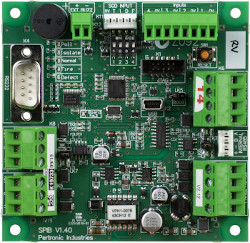 This Pertronic Modbus interface allows a LIOS DE.TECT fibre-optic linear heat detection system (LHD) to be integrated into a Pertronic F220 fire system.
The interface connects to the fire panel's RS-485 bus and communicates with the LHD via Modbus. It can be mounted inside the fire panel or at a remote location.
The interface uses the fire panel's loop emulation capability. Each zone on the LHD cable is mapped to a device on an emulated analogue addressable loop.
The Modbus connection is galvanically isolated from the fire alarm control panel's RS-485 bus.
Features
Compatible with Pertronic F220 fire alarm control panels
Functions as a Modbus master device
Modbus connection configurable RS-232 or RS-485, 300 bit/s to 115,200 bit/s
Supports Modbus TCP when connected to a Modbus Serial to Modbus TCP Gateway
Emulates up to four analogue addressable loops. (Note that the total number of actual and emulated loops cannot exceed the panel's maximum loop capacity)
Supports

Up to 159 fibre-optic LHD detection zones per emulated loop (maximum 4 x 159)
Two module addresses representing the LHD controllers global Alarm and Fault indications on the base loop only

Each zone on the LHD cable is mapped to a device on an emulated analogue addressable loop
Each emulated heat detector can report pre-alarm and fibre break as well as alarm signals
Optional fault supervision between the fibre-optic LHD interface and fire alarm control panel
Configurable with a PC running a terminal emulation program via USB mini-B cable
On-board LEDs provide diagnostic information
Electrically isolated from the fire alarm control panel's RS-485 bus
Also compatible with F120A fire panels with v5.0 or later firmware
---
Ordering Information
SPIB Interface-LIOS Heat Detector
---
Enquire about this product