F220 Fire Panels
Pertronic Industries range of Fire Indicator Panels (Fire Alarm Control Panel) offer power, flexibility and user-friendly operation for projects of all sizes
< Back to category
F220-ARC
F220 Extinguishing Agent Release System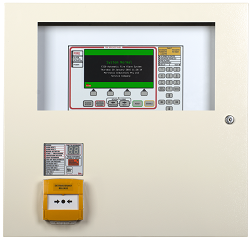 The Pertronic F220 Extinguishing Agent Release System provides automatic control of one or more fire suppression systems.
The system is based on the Pertronic F220 analogue addressable fire panel, together with the Pertronic Extinguishing Agent Release Controller (ARC). A single F220 panel may be fitted with multiple ARCs. Each ARC provides control, fault supervision, and monitoring for one fire suppression system.
The control panel is fitted with one Pertronic Agent Control Station for each ARC. The Agent Control Station has a keyboard and display panel providing status and fault indication for the associated ARC and the suppression system.
In addition to the control station mounted on the panel, each ARC may communicate with up to nine additional control stations. Two types of control stations are available: The Agent Control Station (ACS), and the Local Control Station (LCS). The ACS has a Time to Discharge count-down timer, status indicator LEDs, local buzzer mute control, Auto Release Disabled button, and a full set of fault indicating LEDs. The LCS is similar to the ACS, however, it does not have the fault indicator LEDs.
The Auto Release Disabled button on any ACS or LCS may be used to prevent release of extinguishing agent at any time, including after the automatic discharge process has been initiated. Each control station also has a lift-flap manual call point (MCP), allowing the agent release process to be triggered manually.
The F220 Extinguishing Agent Release System includes indoor and weatherproof audio-visual (AV) signs. AV signs are available with a range of messages and audible alarm signals, and an optional high-visibility count-down timer.
F220 Extinguishing Agent Release Panels are available in a range of cabinet sizes and styles, including weatherproof.
Features
Fire suppression control system based on Pertronic F220 analogue addressable fire panel
An F220 Extinguishing Control Panel may be fitted with multiple Agent Release Controllers (ARC)
Available in a range of cabinet sizes
Automatic or Manual agent release process
Automatic release can be disabled or aborted from any control station
Multiple controllers can be manually triggered from a single device
Meets the requirements of Australian Standard AS ISO 14520.1:2009
Agent Release Controller Features (per controller)
Automatic delay is configurable, from 5 seconds to 90 seconds
Manual delay configurable, independent of automatic delay, from 5 seconds to 90 seconds
Communicates with up to nine external control stations (ACS or LCS)
RS485 bus for communication with control stations
Agent release output hold time configurable: 20 seconds, 30 seconds, 60 seconds, or 5 minutes
Low pressure fault input
Pressure switch feedback confirms release (optional)
---
Ordering Information
F220, 10U cabinet with 2 Loops, 5 Amp PSU, c/w ARC
F220, 13U cabinet with 2 Loops, 5 Amp PSU c/w ARC White Rackplates
F220, 13U cabinet with 2 Loops, 11 Amp PSU c/w ARC White Rackplates
F220, 16U Cabinet with 2 Loops, 5 Amp PSU, c/w ARC
F220, 16U Cabinet with 2 Loops, 11 Amp PSU, c/w ARC
F220 28U Cabinet with 2 Loops 5 Amp PSU c/w ARC White rackplates
F220 28U Cabinet with 2 Loops 11 Amp PSU c/w ARC White rackplates
F220, 28U Slim Cabinet with 2 Loops, 5 Amp PSU c/w ARC, White Rackplates
F220, 28U Slim Cabinet with 2 Loops, 11 Amp PSU c/w ARC, White Rackplates
---
Enquire about this product