Flame Detectors
< Back to category
20/20ML UV/IR
SharpEye Mini UV + IR Flame Detector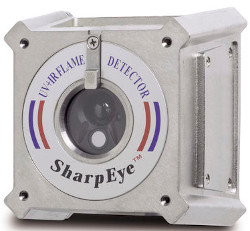 The SharpEye Mini UV/IR Flame Detector (20/20ML) is a compact flame detector featuring high sensitivity combined with enhanced nuisance alarm immunity.
This product is designed to detect hydroxy and hydrogen fires, metal and inorganic fires, as well as hydrocarbon fires at distances up to 15 m.
The UV/IR flame detector senses energy in both the ultraviolet and infrared portions of the electromagnetic spectrum. The UV sensor incorporates a special logic circuit that helps prevent nuisance activation caused by solar radiation. The signals from both sensors are analyzed for frequency, intensity and duration. Simultaneous detection of radiant energy in both the UV and IR sensors triggers an alarm signal.
Features
Dual UV (0.185 - 0.260 micron) and IR (2.5 - 3 micron) sensors
50 msec response to saturated signal
Large field of view (100° horizontal/vertical)
Alarm and Fault relays
Industry-standard 4-20 mA 3 or 4-wire output
Modbus compatible RS-485 interface
User programmable functions
Configurable via software from a PC or handheld device
Immune to nuisance alarms (solar blind)
Automatic and manual built in test
316L stainless steel housing
FM Approved for functionality
MIL-STD-810C for Humidity, Salt & Fog, Vibration, Mechanical Shock, High Temp, Low Temp
Water and dust protection to IP67 and NEMA 250 6P
---
Ordering Information
Spectrex UV + IR Detector c/w Tilt Mount
---
Enquire about this product