Manual Call Points
< Back to category
SC070 Key
KAC Manual Call Point Test Key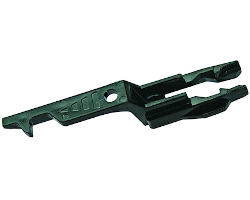 The SC070 Test Key allows technicians to test KAC manual call points (MCP) without breaking or flexing the operating element. After testing with this key, the technician does not need to dismantle the call point for resetting or replacing the operating element.
When inserted into the call point, the test key triggers an alarm condition without moving the flexible element. The MCP returns to normal when the test key is removed.
The test key is also used to remove the lower part of the front panel to reset the flexible element, to access the mounting screws, or to change the flexible element.
This double-ended key also fits System Sensor M500K and M400KA call points.
The SC070 Test Key is not recommended for use with other brands of manual call point.
---
Ordering Information
SC070 Test Key for KAC & System Sensor Manual Call Points
---
Enquire about this product