Modules
< Back to category
M210E-CZR Module
Conventional Zone Interface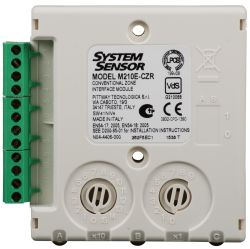 The Conventional Zone Interface (M210E-CZR) links a conventional detection zone to a Pertronic analogue addressable fire alarm control panel, such as the F220, via the AA loop.
The M210E-CZR has an inbuilt resistor. This makes it especially suitable for use with detection zones in hazardous areas.
The conventional zone can be powered from the analogue addressable loop or from an external power supply.
Where the conventional zone is powered from an external power supply, the AA loop is fully isolated from the conventional zone and from the power supply.
Features
Tri-Colour status LED
Remote reset of conventional zone
Detection zone may be powered from AA loop or external 24 Volt dc power supply
Monitoring of external power supply
Built-in isolation
Supervises for open-circuit and short-circuit faults
External fault input
Fits M200E-SMB mounting box, or M200E-DIN module rack + M200E-PMB panel mount bracket connection
---
Ordering Information
AA Module Conventional Zone Interface - Euro (Uses M200E-SMB Box)
---
Enquire about this product