Modules
< Back to category
M500DMR
Dual Input / Output Module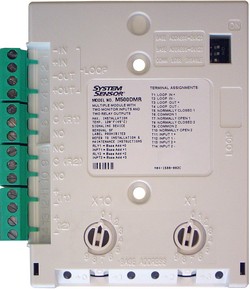 The System Sensor M500DMR Analogue Addressable Dual Input, Dual Output Module supervises two input circuits from external switch devices and also provides two unmonitored single pole volt-free changeover contacts for external devices. Input channels are capable of both latched and analogue supervision: there are three separate latched states, normal, open circuit and combined alarm/short. The analogue supervision continuously monitors the supervised circuit, returning a signal proportional to the circuit resistance.
The module may be mounted in either a wall box, on a DIN rail, or inside any type of enclosure. Irrespective of the chosen mounting method, the address switch is both visible and accessible for selection.
To assist maintenance and fault-finding, both the LEDs and the address switches are visible without removing the surface mounting box cover.
The M500DMR incorporates a loop isolator that isolates the loop in and loop out connections in the event of a short circuit on either loop connection.
Features
Dual Input, Dual Output Module
Input 2 (I2) and Relay 2 (R2) may be disabled individually using module DIP switches
Incorporates an Isolator for the Analogue Addressable Loop
Uses 2, 3 or 4 module address spaces
Common mechanical platform for box, panel and DIN rail mount versions
Decade Address switches visible and selectable in two planes
Wide angle LED visibility
---
Ordering Information
AA Dual Input, Dual Output Module (Uses M200E-SMB Box)
---
Enquire about this product