FireMap Graphic User Interface
Pertronic FireMap is an economical fire system management tool that adds advanced features to any fire system.
< Back to category
FIREMAP GATEWAY
FireMap Ethernet Gateway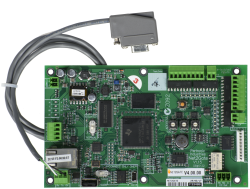 The Pertronic FireMap Ethernet Gateway (FMEGATE) enables any fire panel or other equipment to interface with Pertronic FireMap® over an Ethernet network.
When connected to the RS-485 port on a Pertronic F220, F100A, or F120A fire panel, the gateway enables FireMap to display detailed fire panel information including the status of all analogue addressable devices controlled and/or monitored by the fire panel.
An optional RS-232 connection allows FireMap to read PW4 data from the connected Pertronic fire panel's analogue addressable devices.
In addition, the gateway provides limited control functions including Isolate (Disable), Reset, and Acknowledge.
The FireMap Ethernet Gateway can also interface other equipment to Pertronic FireMap®. The gateway provides two independent sets of eight switched (dry-contact) inputs, which may be connected to equipment such as third party fire panels or Pertronic conventional fire panels. Pertronic FireMap® can be configured to display suitable graphics in response to signals on individual switched inputs.
Features
TCP / IP Ethernet interface
RS-485 and RS-232 to Ethernet data conversion
IP, Netmask, Gateway Address, and other Ethernet settings configurable via web interface
Isolate switch
Supplied with RS-232 cable and 9-pin D-sub-miniature connector
Note: The FireMap Gateway (FMEGATE) was previously called the Ethernet Gateway Mk2 (NET2GATE). It was renamed to avoid confusion with Net2 Network products. The FireMap Gateway is NOT a Net2 Network product.
---
Ordering Information
---
Enquire about this product