FireMap Graphic User Interface
Pertronic FireMap is an economical fire system management tool that adds advanced features to any fire system.
< Back to category
NET2GATE
Ethernet Gateway Card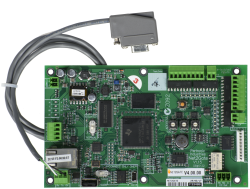 The Pertronic Ethernet Gateway Mk2 Card (NET2GATE) enables the Pertronic F220 analogue addressable fire alarm control panels to interface to an Ethernet network.
This module may be used to interface any fire alarm control panel to Pertronic FireMap™, via the 16-way digital input. 
The gateway card is used in conjunction with the Pertronic FireMap™ graphic system for remote management and monitoring of Pertronic analogue addressable fire alarm panels over an IP based Ethernet LAN or the internet. The gateway card formats, filters and distributes the panel data to the Ethernet, leaving the panel with the important task of detecting and reporting alarms.
Typically mounted inside the fire alarm panel, the Ethernet gateway card allows data from the panel's RS485 mimic port to be available to external equipment, such as Pertronic FireMap™, enabling the status of the panel to be shown pictorially with user control facilities for Isolate, Acknowledge and Reset. This provides remote interrogation of the panel to allow detector status to be checked and other functions.
Features
Standard TCP / IP Ethernet interface
Panel RS485 to Ethernet data conversion
Web based configuration of Ethernet networking parameters 
Simple firmware upgrade via USB flash drive
Low quiescent current
IP, Netmask and Gateway address configurable via web interface
---
Ordering Information
Ethernet Gateway Card-F100/F120/F220
---
Enquire about this product