Installation & Test Equipment
< Back to category
LOOPTEST
Loop Cable Tester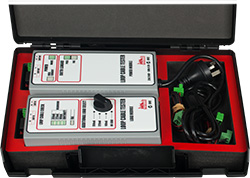 The Pertronic Loop Cable Tester is a tool for testing loop wiring in analogue addressable fire alarm systems. It is designed for validating new loop cabling prior to connecting to a fire alarm panel, and for testing and fault-finding loops on existing systems.
The test set comprises two compact modules: the Power Module and the Load Module. It is supplied in a carry case.
The Loop Cable Tester has been developed because standard instruments such as multimeters cannot be used for testing continuity or earth leakage on an analogue addressable loop. Some unpowered addressable devices break the loop into a series of isolated sections. The test set overcomes this difficulty by powering up the loop devices. With all devices powered up and drawing quiescent current only, the loop should behave similar to a pair of wires.
The Power Module checks earth isolation, provided it is connected to the same mains earth as the fire alarm panel.
The Load Module checks for continuity and voltage drop. For any setting of the load switch, if the voltage at the Load Module falls below 15 Volts, the Load Module indicates a test fail.
Features:
Separate power and load modules facilitate testing
A complete loop, with both modules at the same location
Part of a loop, or a spur, with the modules at separate locations
Each module has a pair of clamps for bare wire loop connections, as well as a two-pin connector for plug-in loop connection
Power Module
Mains LED (Green)
Over Current LED (Red)
 Earth Leakage Pass & Fail LEDs (Green & Red)
Mains power lead
Load Module
Four-position Load Select rotary switch
Continuity LED (Green) »
Three-level Loop Check LEDs (Green): 100 mA, 225 mA, 350mA
Loop Check Fail LED (Red)
---
Ordering Information
Analogue Loop Tester Kit (2 Modules Complete with Carry Case)
---
Enquire about this product