Mimics, Repeaters & Interfaces
Pertronic Industries offer an extensive range of Mimic and Repeater Displays. This includes: LCD Mimics, LED Mimics, Ancillary Peripheral Outputs & Displays, and General Purpose Interface Boards
< Back to category
SPIB-MODBUS HLI
Building Management System I/F: Modbus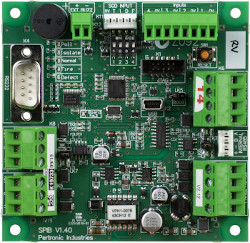 The Pertronic SPIB Modbus Interface (SPIB-MODBUS HLI) allows bi-directional communication between a Pertronic F220 fire panel and one or more Modbus master devices such as a Building Management System (BMS).
The interface monitors the fire panel's RS-485 bus and stores a copy of the panel's current event queue data in a Modbus-compatible format. This includes all major events that would be shown on the fire panel's LCD display.
External devices are able to communicate with the fire alarm system via the Modbus interface using the F220's loop emulation capability. The interface translates data from external Modbus registers into detector or module status data readable by the fire panel. The interface can emulate up to four analogue addressable loops. The Modbus Interface can also transfer isolate & de-isolate requests to the fire panel.
The Modbus Interface supports ASCII and RTU Modbus modes over either RS-232 or RS-485. When fitted with a Modbus Serial to Modbus TCP Gateway such as the MOXA MB3180, it also supports Modbus TCP.
When used with a suitable Modbus master device, the Modbus interface can optimise communication speed by packing data from up to four devices into a single Modbus register.
Pertronic also manufactures a Modbus interface for connecting F220/Net2 Network Systems directly to building management systems. Please refer to the Net2 Network System Datasheet for more information.
Features
Compatible with Pertronic F220 fire alarm control panels
Functions as Modbus slave (server) device
Modbus connection configurable RS-232 or RS-485, 300 bit/s to 230.400 bit/s
Supports Modbus TCP when connected to Modbus Serial to Modbus TCP Gateway
Optional fault monitoring between Modbus Interface and fire panel
Emulates up to four analogue addressable loops, each with up to 159 detectors and 99 modules (Note: The total number of actual and emulated loops cannot exceed the panel's maximum loop capacity)
Configurable with a PC running a terminal emulation program via USB mini-B cable
Electrically isolated from the fire panel's RS-485 bus
On-board LEDs provide diagnostic information
Also compatible with F120A fire panels with v5.0 or later firmware
May be used as a "read-only" Modbus interface for a Pertronic F100A fire panel
---
Ordering Information
SPIB Interface-MODBUS HLI (Check Interfacing Required) F100/F120/F220
---
Enquire about this product