Miscellaneous
Pertronic Industries offer a range of miscellaneous products which include: In-Ceiling Detector Mount Kit, Manual Call Point Stopper, Detector Wire Guard and Electromagnetic Door Holders
< Back to category
PIC-DMK / PIC-DMP / PIC-DRI
In-ceiling Detector Mount Kit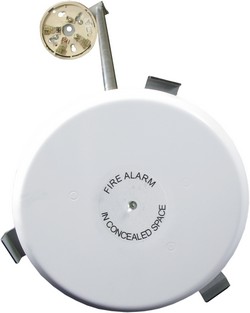 The Pertronic In-Ceiling Detector Mount Kit and In-Ceiling Detector Mount Pole together provide a convenient method to allow detector installation in above-ceiling locations.
The kit has four main parts: Cover Plate, Pole Base, Ceiling Bracket and Detector Mounting Bracket.
A universal detector base bracket allows the user to mount a base from most detector manufacturers. Either conventional or analogue addressable detectors may be used with their respective bases.
An optional Remote LED Indicator (PIC-DRI) (supplied separately) attaches to the pole base and is wired to the detector inside the concealed ceiling area. The PIC-DRI circuit board can be wired for optional current limiting resistance values, to suit the detector's remote LED output.
Features:
Allows detector mounting height up to 3 metres
One metre poles must be ordered separately
Universal detector mount bracket compatible with analogue addressable or conventional detector bases
Kit includes spanner for pole nuts
Optional remote LED indicator fixes to the pole base fitting
Pole base fitting locks tightly into ceiling bracket
Spring clips allow cover plate to easily snap to pole base
Optional labels supplied with kit:

FIRE ALARM label for use with a remote indicator;
FIRE DETECTOR label for use if a remote indicator is not used
---
Ordering Information
Pertronic In-Ceiling Detector Mounting Kit
Pertronic In-Ceiling Detector Mounting Pole (1m)
Pertronic In-Ceiling Detector Remote Indicator
---
Enquire about this product