Miscellaneous
Pertronic Industries offer a range of miscellaneous products which include: In-Ceiling Detector Mount Kit, Manual Call Point Stopper, Detector Wire Guard and Electromagnetic Door Holders
< Back to category
Electromagnetic Door Holders
Wall and Floor Mount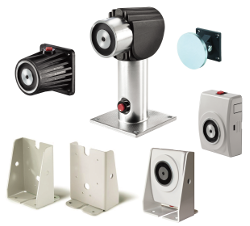 Electromagnetic Door Holders allow fire detection and alarm systems to control fire doors. When energised, the electromagnet holds the door open by magnetically attracting a keeper on the door. In the event of a fire alarm the electromagnet is de-energised, releasing the door.
Pertronic fire alarm control panels offer several methods of controlling electromagnetic door holders, including panel door holder relays, analogue addressable relay modules, and Pertronic Ancillary Peripherals.
Each door holder has a manual release switch, reverse polarity protection diode, and suppression diode. It is supplied complete with an adjustable keeper.
Features
Electromagnetic door holder
Adjustable keeper
Wall mount and floor mount versions
Tested according to EN1155 (Electrically powered hold-open devices)
Manual release switch
Reverse polarity and suppression diodes
---
Ordering Information
Fire Door Holder, Wall/Floor mount, 150/175mm, 24VDC, 66mA, 40Kgf
Fire Door Holder, Wall/Floor mount, 300/325mm, 24VDC, 66mA, 40Kgf
Fire Door Holder, Wall mount, Slim 38mm, 24VDC, 66mA, 40Kgf
Fire Door Holder, Wall Mount, Extended 65mm, 24VDC, 66mA, 40Kgf
Floor Mounting Bracket for FDHWM38-24V
---
Enquire about this product