Power Supplies
Pertronic Industries offer a range of fully monitored power supplies, suitable for powering ancillary fire alarm equipment
< Back to category
24/4PSU Pwr Supply
24V 4A DC PSU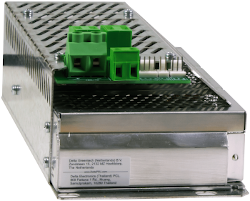 The Pertronic power supply 24/4PSU provides 24 volt (nominal) dc power from the ac mains supply.
This product replaces the 24/2SWMP 4 amp power supply.
It is designed for systems built with the Pertronic F120A, F100A, and F16e fire panels.
This power supply does not have an in-built fault relay or automatic self-supervision.
Dimensions: 212 x 98 x 60 (L x W x D mm)
Weight: 0.95 kg
---
Ordering Information
Offline PSU 24V4A (continuous) 'MK2'
---
Enquire about this product